4pk Solar Dock Dots
Want your deck to stand out at night? Solar Deck Dots are a classy way to make your deck catch the eye at night! Choose from 7 colors to enhance your deck in the dark! Maybe you want show your team spirit? Attractively and elegantly illuminate your deck with Solar Deck Dots in one of our exciting color choices!
Solar Deck Dots are the smallest deck solar lights available! A flush mount makes them virtually unnoticeable during the day and offer an ambient glow at night. A super bright LED and powerful solar panel provide the solar deck dots with an impressive illumination. Solar rechargeable batteries are included and are user replaceable. Solar Deck Dots are the perfect and easy way to light up and highlight the edges of stairs and decks.
Easy to install in minutes with a 1-3/8" drill bit. A super bright LED and powerful solar panel provide impressive illumination.
Solar Deck Dots are available in 6-Color options (white, blue, pink, amber, red, green & ice blue.) to choose from!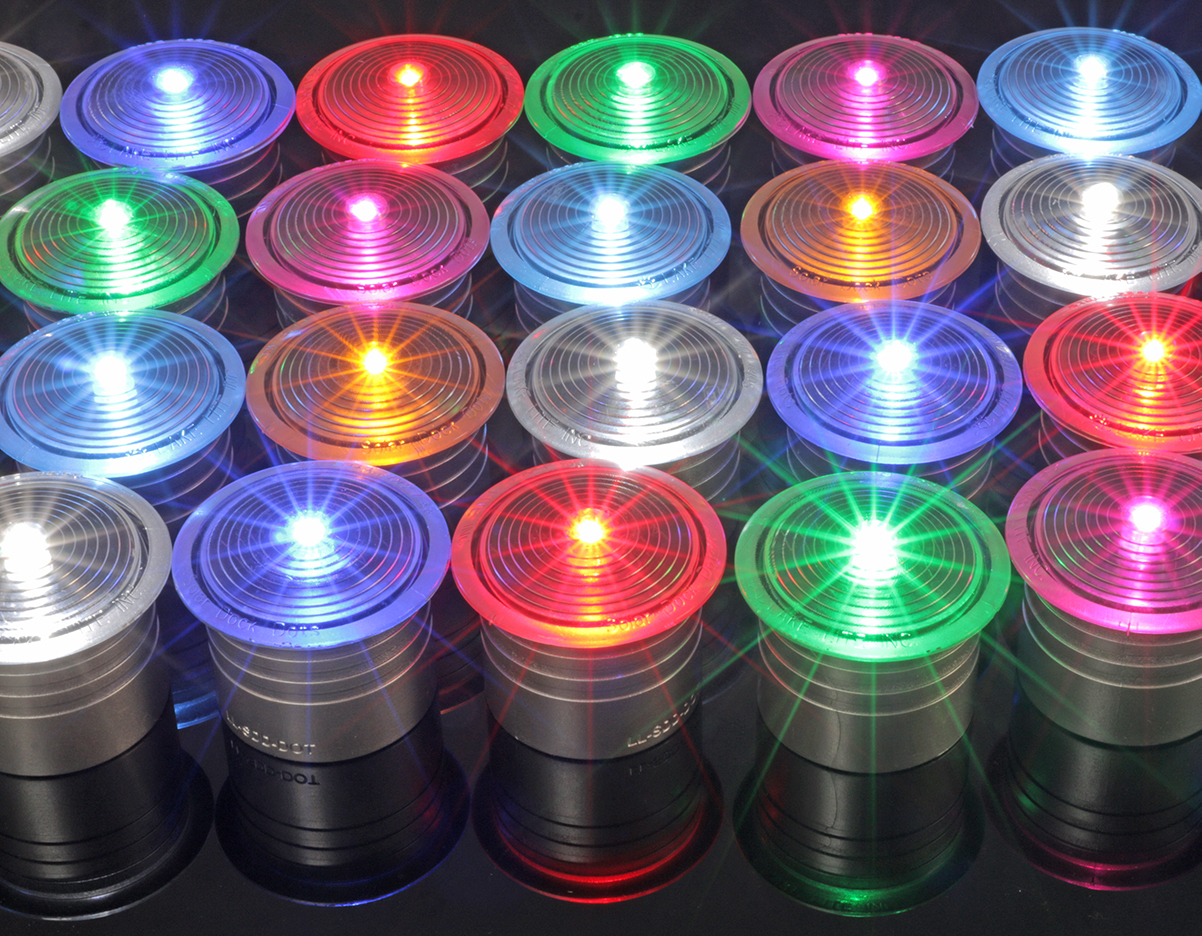 Solar Deck Dots
The solar deck dots are the perfect, easy, hassle free way to light up your dock or deck!
Great Applications:
Share your new

Lake Lite

Solar Dock Dot Lights setup with us and get entered for our Monthly Photo Contest to win a PRIZE!!
Light Characteristics
Light Source
1 Ultra-High Intensity LED (2-3 Lumens *Varies with color)
Available LED Colors
White, Blue, Green, Amber, Red, Pink & Ice Blue
Light Mode Options
Constant
Visible Range
50m – 300m+ *Depending on Installation
Horizontal Output (Degrees)
360° + Horizon
Vertical Divergence (Degrees)
35-45°
LED Life Expectancy (Hours)
>100,000 Hrs
Electrical Characteristics
Circuit Protection
Integrated
Nominal Voltage
1.2v
Autonomy (hours)
16-20 hrs *On Full Charge
Temperature Range

-4 - 158° Fahrenheit

Solar Characteristics
Solar Module Type
Multicrystaline or Monocrystalline
Power (watts)
0.45 watts
Solar Module Efficiency (%)
16-17%
Power Supply
Battery Type
High Grade NiMh - ECO Friendly
Battery Size
1/3 AAA
Battery Capacity (mAhr)
120 mAhr
Nominal Voltage (v)
1.2v
Battery Service Life
1-3 Years (Varies with local Environment)
Battery Service Access
Yes: User Changeable/Replaceable
Physical Characteristics
Body Material
UV Stabilized Polycarbonate
Lens Material
UV Stabilized Polycarbonate
External Lens Design
Integrate Convex Optics & Diffusion
Internal Lens Design
360° Convex Optics & Diffusion
Waterproof Rating
IP 68
Mounting
1 – hole (1-3/8") Diameter / (35mm)
Height
1-3/8"
Width
1-3/8" Body & 1.70" Lip
Weight/Diameter
0.6 lb (4 pack)
Options
Custom Options, Sizes, & Colors
Please Contact
Custom Hardware & Mounting
Please Contact
* Information subject to change without notice
Do they come with batteries?
Yes, Solar Deck Dots come with high quality, high capacity solar rechargeable batteries that have an expected life of 2 or more years.
Are the batteries replaceable?
Yes, the batteries are can be replaced. We recommend using only Lake Lite's solar rechargeable batteries, which are available on our website for this product under the "Accessories & Spare Parts Tab".
Do Solar Dock Dots come with mounting screws?
No, mounting screws are not needed. The lights drop down into the 1-3/8" mounting hole on the dock surface.
How should they be stored for the winter?
Remove batteries after a full day of solar charging, then store in a dry location. We recommend

storing

the batteries in a zip-lock storage bag so that no parts are lost.
Are they actually "Waterproof" or are they just water resistant? Will they withstand heavy rain? Are they submersible?
Solar Deck Dots are truly waterproof and can tolerate heavy downpours. However, they are NOT submersible for any long period of time. The LEDs are changeable, thus the contacts are exposed if the light is submerged. Should the light be submerged, clean off the contacts (wires extending from the LED) with clean water and spray them with WD-40. All other components including the battery is waterproof and sealed if you have tightened the battery cover securely.
Troubleshooting: My lights did not come on after installation? What is the problem?
First, make sure that the plastic tab that separates the electronic components from the battery has been removed.
Second, make sure the batteries have been installed in the correct orientation and are popped securely in place. All of the battery housing cover screws should be installed to insure that the batteries stay in position.
Third, be sure to allow the units to charge in direct sunlight for a full day to achieve optimum performance. Although the provided batteries are new, sometimes they lose charge while in the box. It is best to charge the lights for a full day outside in direct sunlight. They cannot be charged inside on a window sill. They need to be placed outside in direct sunlight.
Last, make sure that the units have been placed in an area where they receive direct sunlight. Placing a solar product in a shady area area will result in little or no solar recharging of the batteries which will dramatically reduce the lighting time.
Accessories & Replacement Parts